St. Lucia
Call and save up to 75% OFF on St.Lucia Resort Vacations!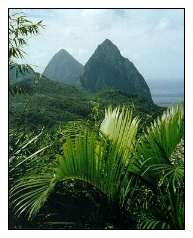 There is a broad array of exciting and exotic activities available on St. Lucia. The island's steep coastlines and lovely reefs offer excellent snorkeling and scuba diving.

The rainforest preserves of St. Lucia's mountainous interior are one of the Caribbean's finest locales for hiking and birdwatching. Of course, the island also possesses excellent facilities for golf, tennis, sailing, and a host of other leisure pursuits. Not to be missed is St. Lucia's Soufriere volcano, the world's only drive-in volcanic crater.




---

Book Online Option
---


For the BEST promotional prices, up to the minute availability, and personal assistance in planning your St. Lucia Vacation call A Travel Center…Your Vacation Station today!
Cruises
Destination: Caribbean
Ship: Carnival Fascination


From $549.00 (USD)

Destination: Caribbean
Ship: MSC Preziosa


From $1,399.00 (USD)

Destination: Caribbean
Ship: MSC Preziosa


From $1,739.00 (USD)

Destination: Caribbean
Ship: MSC Preziosa


From $739.00 (USD)

Destination: Caribbean
Ship: MSC Preziosa


From $1,399.00 (USD)

Destination: Caribbean
Ship: MSC Preziosa


From $2,799.00 (USD)

Destination: Caribbean
Ship: Sirena


Destination: Caribbean
Ship: Koningsdam


From $2,599.00 (USD)

Destination: Caribbean
Ship: Sirena


From $3,000.00 (USD)

Destination: Caribbean
Ship: Silver Wind


From $1,999.00 (USD)

Destination: Caribbean
Ship: Riviera


Destination: Caribbean
Ship: Celebrity Equinox


Destination: Caribbean
Ship: Anthem of the Seas


Destination: Caribbean
Ship: Koningsdam


From $8,299.00 (USD)

Destination: Caribbean
Ship: Seven Seas Splendor


From $2,299.00 (USD)

Destination: Caribbean
Ship: Insignia


From $4,700.00 (USD)

Destination: Caribbean
Ship: Silver Spirit


From $11,499.00 (USD)

Destination: South America
Ship: Seven Seas Mariner


From $1,489.00 (USD)

Destination: Caribbean
Ship: Carnival Breeze


From $2,199.00 (USD)

Destination: Caribbean
Ship: Insignia


Destination: Caribbean
Ship: Koningsdam


From $2,599.00 (USD)

Destination: Caribbean
Ship: Insignia


From $2,349.00 (USD)

Destination: Transoceanic
Ship: Riviera


Destination: Transoceanic
Ship: Seabourn Odyssey


From $3,999.00 (USD)

Destination: Caribbean
Ship: Seven Seas Mariner


From $9,699.00 (USD)

Destination: Caribbean
Ship: Seven Seas Explorer


Destination: Caribbean
Ship: Freedom of the Seas


From $6,399.00 (USD)

Destination: Transoceanic
Ship: Marina


Destination: Caribbean
Ship: Celebrity Summit


Destination: Caribbean
Ship: Veendam