Barbados
Your Best Price Is Guaranteed! Call for our "Daily Specials" and savings up to 75% OFF on Vacations!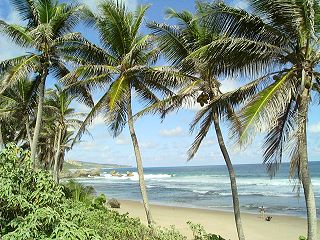 On the East Coast of Barbados huge Atlantic waves crash along the shore and these beaches are better suited for walking and sunning. However there are a few good places to splash along this coast - as the waves break over rocks and reefs, small pools are formed close to shore - natural swimming pools!

The "Soup Bowl" located at Bathsheba is the surfer's choice while the East Coast Road is a popular picnic spot. Cattlewash offers a breathtaking landscape. With the constant washing from the Atlantic, the East Coast is the perfect place for beachcombing. While the Caribbean side is more suited to swimming and sand castles!
---
Book Online Option
---

For the BEST promotional prices, up to the minute availability, and personal assistance in planning your Barbados Vacation please call today!
Cruises
From $859.00 (USD)

Destination: Caribbean
Ship: MSC Fantasia


From $1,569.00 (USD)

Destination: Caribbean
Ship: MSC Divina


From $1,269.00 (USD)

Destination: Caribbean
Ship: MSC Fantasia


From $1,049.00 (USD)

Destination: Caribbean
Ship: MSC Preziosa


From $1,539.00 (USD)

Destination: Caribbean
Ship: MSC Fantasia


From $1,199.00 (USD)

Destination: Caribbean
Ship: MSC Preziosa


From $1,539.00 (USD)

Destination: Caribbean
Ship: MSC Fantasia


From $999.00 (USD)

Destination: Canada/New England
Ship: MSC Meraviglia


From $1,379.00 (USD)

Destination: Caribbean
Ship: MSC Fantasia


From $729.00 (USD)

Destination: Caribbean
Ship: MSC Divina


From $859.00 (USD)

Destination: Caribbean
Ship: MSC Fantasia


From $1,379.00 (USD)

Destination: Caribbean
Ship: MSC Fantasia


From $859.00 (USD)

Destination: Caribbean
Ship: MSC Fantasia


From $769.00 (USD)

Destination: Caribbean
Ship: MSC Fantasia


From $1,539.00 (USD)

Destination: Caribbean
Ship: MSC Fantasia


From $1,569.00 (USD)

Destination: Caribbean
Ship: MSC Divina


From $4,600.00 (USD)

Destination: Caribbean
Ship: Silver Wind


Destination: Caribbean
Ship: Celebrity Summit


From $2,500.00 (USD)

Destination: Caribbean
Ship: Silver Wind


From $4,100.00 (USD)

Destination: Caribbean
Ship: Silver Spirit


Destination: Caribbean
Ship: Koningsdam


From $9,199.00 (USD)

Destination: South America
Ship: Seven Seas Navigator


Destination: Caribbean
Ship: Koningsdam


Destination: Caribbean
Ship: Zuiderdam


Destination: Caribbean
Ship: Carnival Fascination


Destination: Caribbean
Ship: Celebrity Summit


Destination: Caribbean
Ship: Jewel of the Seas


Destination: Caribbean
Ship: Freedom of the Seas


From $5,600.00 (USD)

Destination: South America
Ship: Silver Muse


Destination: Caribbean
Ship: Jewel of the Seas